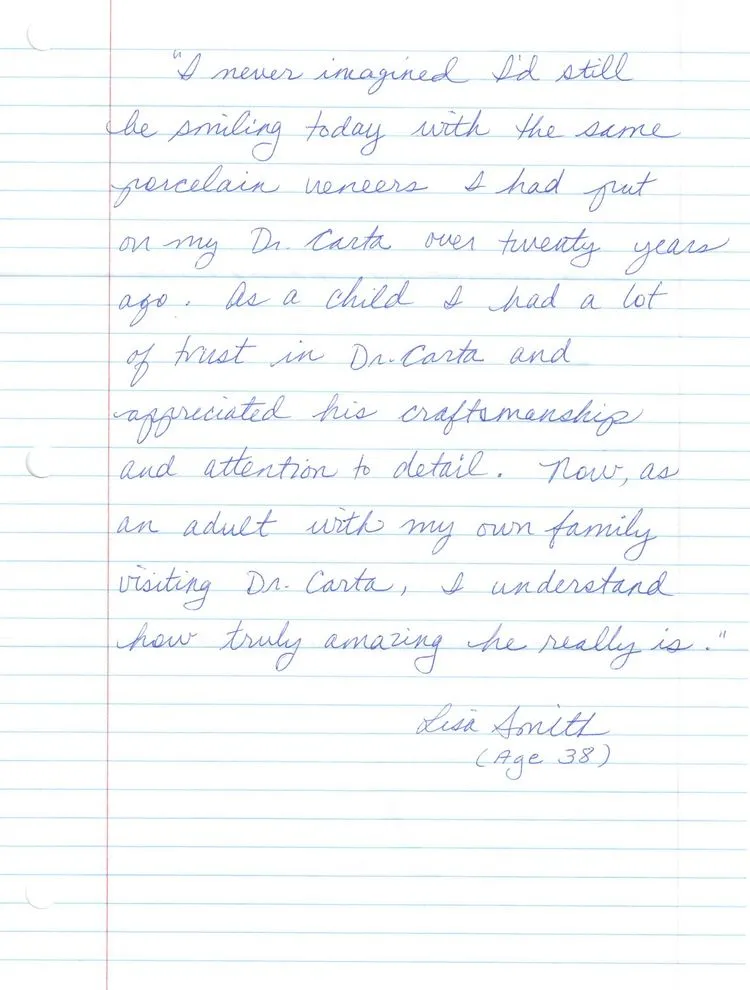 Dear Dr. Carta
I just want to say thank you and that of all the years I have been visiting the dentist and I have been to and change few in my life time. It is the first time I have had such a thorough comprehensive examination of my teeth. Not only was the examination thorough, for the first time I knew exactly what has been done and why it was done. He takes the time to explained everything that he was doing and why. I walked away from the examination room learning about and understanding what I need to do going forward and I also learned a few dental terminologies in the process. Hands down, this is the best dentist visit I have had since the day (40 years) I can recall visiting one.
Thank you
-M. Morgan
---
When I was 5 yrs. old the dentist insisted I take a pill before she would seat me. I was just terrified. I carried that fear throughout my life. I went from dentist. I never completed treatments. I just kept moving on looking for the "ONE" who I trusted. I am so grateful to the person who intruduced me (Dr. Angelee Carta) to Dr. Trist Carta. This is the first time in my 63 yrs. that I am not afraid, I take no pills and I actual look forward to my visits. Everyone there is amazing and their care is the best. The results are unsurpassable. With all my heart I wish to say thank you to Dr. Carta and staff.
-Leslie

---
Dr. Carta,
I wanted to take a moment to express my sincere appreciation to you and your office staff. I am so pleased to be going to your office for my dental care. Since I choose to have dental cleanings every 3 months I am so pleased to be in the care of your dental hygienist Marianne. She truly gives a thorough cleaning and is extremely knowledgeable, delivers quality patient care and achieves all of my expectations with a very personal approach. Thank you Marianne!
Dr. Carta, I want to personally thank you for continued, thorough comprehensive dental care and especially for my first time experience of an emergency appointment over a recent weekend when my crown fell off. Your prompt personal return phone call and caring service on a "snowy" Saturday afternoon was very much appreciated. Thank you very much! This truly shows you care about each and every one of your patients!
From entering your office and being greeted by your pleasant receptionist Viva who truly shows her interest in all of your patients as I witness from sitting in the waiting room to Pat your Financial Coordinator who is always available to answer any complicated question you might have with an invoice or payment question dealing with insurance she truly shows her care and concern making sure each and every question and concern is taken care of. I have even experienced Kasia's amazing personality when I had my teeth whitened in your office, and I have to say so many people have noticed it and wanted to know what I used. Thank you Kasia! Dr. Carta even Beth, your assistant whom is amazing and just knows what you need at the right moment, she just seemed like she could read your mind - you don't even need to speak, now that's a great assistant! Even your staff that I don't have any communication/services with they make sure they take the moment to greet you with a smile. I have to say each and every one of your staff shows they care about everyone that walks through your office door! I have to say, you have an amazing staff!.... And they have an amazing Boss! Dr. Carta, I am glad to be your patient! Thank you for choosing to be a Dentist and to me and my family you are the Best Dentist in Connecticut! J
P.S. Thanks Marianne for passing on to Dr. Carta my recommendation of the fold up toothbrush in our take home goodie bag J just love it!!! now I can have a sanitized toothbrush to keep in my purse! You are just the BEST!
Thank you
Denise C

---
Dr. Tris Carta recently completed a very complicated restoration project involving all six of my top front teeth. I'm absolutely thrilled with the result! What's more, the process itself gave me an even greater appreciation for his expertise and the overall quality and professionalism of his practice.
My case began when a decades-old problem necessitated the extraction of one of my front teeth. I was horrified at the prospect of looking like a jack-o-lantern! But Dr. Carta developed a treatment plan that not only preserved my appearance, but allowed me to speak and eat normally over the months required for the restoration process. He placed an implant, fabricated temporary bridges and crowns, prepared detailed models for use by the dental laboratory and, ultimately, affixed six porcelain crowns that look incredibly natural. The work solved several clinical problems and made me feel confident about my smile - something I haven't felt in almost 50 years.
I know that my case required a high degree of knowledge and skill in the field of dental medicine, and I'm grateful that Dr. Carta was there for me. I was also impressed with how smoothlu and efficiently he and his excellent assistant, Beth, work together. Their clockwork-like collaboration made procedures go quickly, so I spent less time in the chair.
Through it all, Dr. Carta and his staff were wonderful. They communicated effectively with me and were always there when I needed them. Dr. Carta even gave me his cell phone number in case of an emergency! From working with my insurance company to scheduling appointments and keeping the office running on-time, every person in the practice demonstrated exceptional dedication to caring, quality and patient service. No dental patient could ask for more.
-Kirk
---